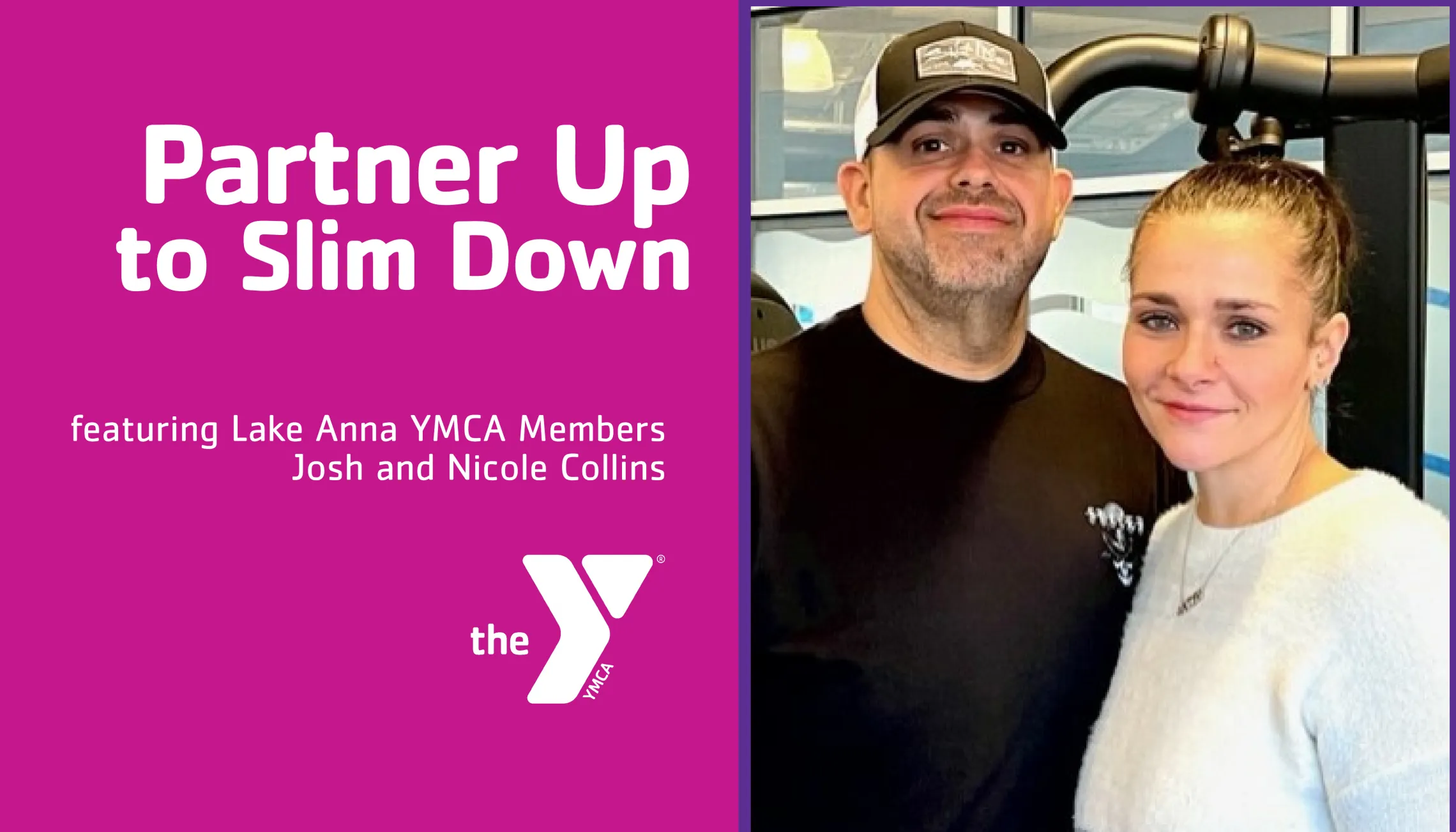 Partner Up to Slim Down
Josh and Nicole Collins
After battling with their weight and starting and stopping various short-term fixes, Nicole and Josh Collins decided to get serious.  That was in September 2022.  The couple who had joined the Y a year earlier finally said, "we have to figure this out."
And they did.
Since that time, with a total change in their eating habits and a consistent commitment to working out at the Lake Anna YMCA, the couple has lost a collective 277 pounds!
They've cut out red meat, bread and a good bit of sugar replacing these items with tons of fruit, rice cakes, cottage cheese and for a treat – Halo ice cream.  And, they come to the Y a minimum of three times per week.
The couple, who have been together for 13 years, work long schedules and care for their middle school daughter.  "It's easy to get up, get ready, drop her off at seven o'clock in the morning for school, and then just swing by and stop right here in the morning," said Nicole, who is currently focused on toning.
Josh spends his workout revolving around the elliptical, treadmill and free weights.  Nicole has her go-to routines too, with both of them really liking the rowing machine.  Like most folks in the Fitness Center, they listen to their own music.  Josh says he likes country but mostly listens to rock and rap.  Nicole said she prefers "anything upbeat and definitely not country."
They do agree, however, on the community of the Y, both stating that they immediately felt welcomed by the staff and other members who are there when they are."   "We like to see all the older folks every morning too," said Nicole. 
"They've all noticed the weight loss and tell us that we're looking good," said Josh.  Friends, family and the front desk staff all echo the sentiments.
Tara Limer, who works the opening shift at Lake Anna YMCA sees them as a true inspiration.  "Last February when I was yet again on my weight loss journey, I had stopped Nicole because I've noticed her and Josh coming in and thought they looked AMAZING!!"
Tara said that they talked and she shared what someone once said to her, "Losing weight is hard. Being overweight is hard. Choose your hard."
What's not be hard is the motivation and friendly competition shared between the Collins'.  "We would kind of push each other. So, if I went to the Y at a different time than he did, I'd send him a screenshot of the treadmill screen showing that I was on there for 45 minutes and did 2-3 miles," said Nicole.
"Then I'd come by after work and send her a message saying that I was on the treadmill for an hour and did 4 miles," said Josh with a smile.
With the significant weight loss, both Josh and Nicole regularly see a doctor to make sure that key indicators like blood pressure, heart rate and the ever-challenging BMI numbers are moving in the right directions.  But numbers only tell part of their story.
"We just generally feel all around better," said Josh.
"Before, on our days off, we would wake up, take the kids to school, come back home, go back to sleep," said Nicole.  "Now, we go to the Y to work out, then go to the sauna and then walk around the lake and then we'll go home. We'll get a shower, get ready, we'll go grocery shopping.  We do all kinds of stuff instead of just, laying around and not doing anything."
Josh said that he's content with his current weight, but Nicole has a goal of shedding 20 additional pounds.  "I'm happy right now, like the 220.  That's probably the lowest I've been since my freshman year in high school.  But, if she's still pushing to lose weight, then I'll push with her."
And he will.  And she will.