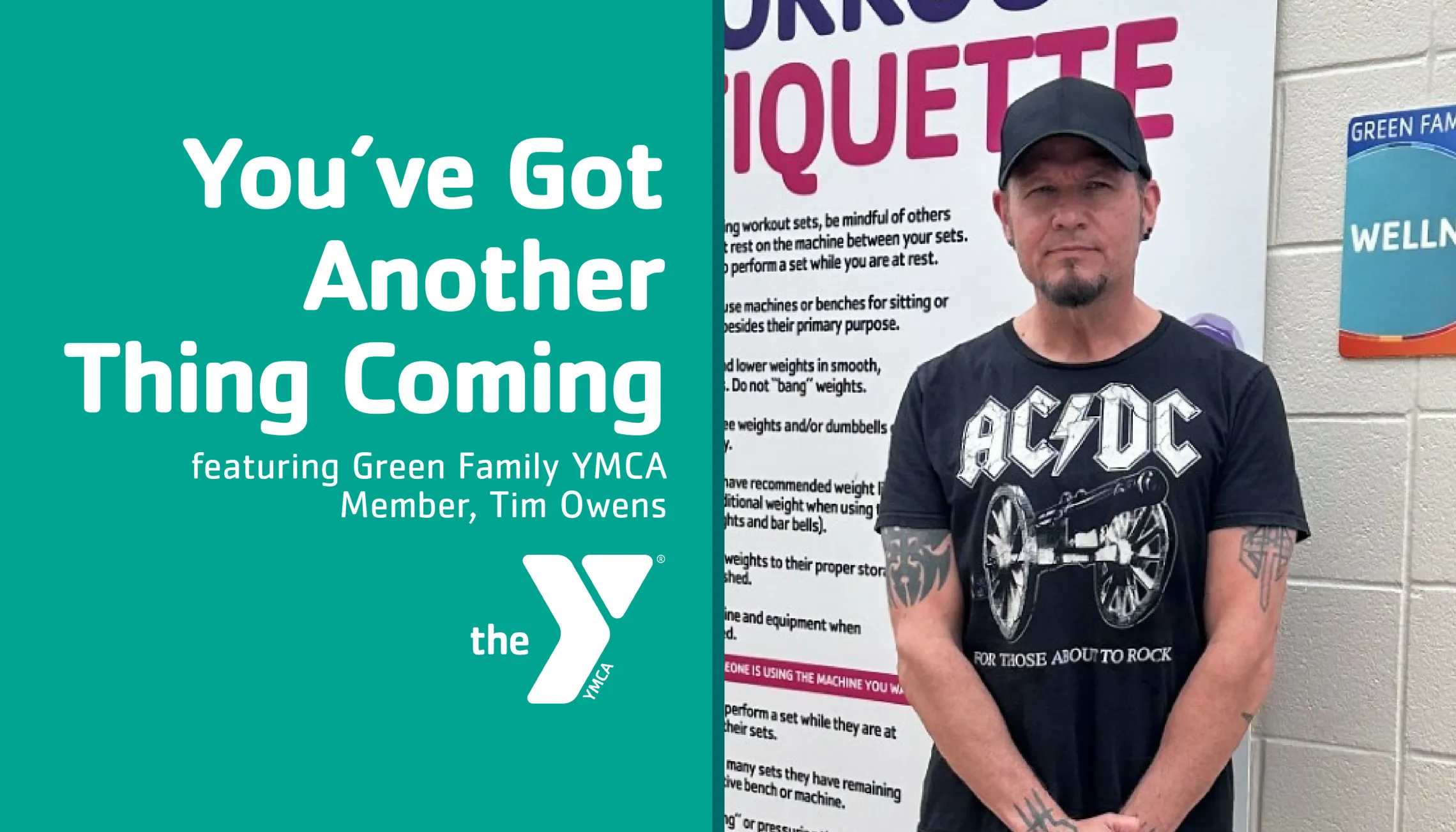 I'm guessing that Tim Owens is the only member of the Green Family YMCA with a mile-long Wikipedia page. I'm also pretty sure that there's no other member who is an internationally-recognized musician, a Grammy nominee, an inspiration for a major motion picture, and the beneficiary of bragging rights for losing 65 pounds.
But that's the real deal. And, so is Tim Owens, who professionally uses the name, "Ripper," when touring the globe with his heavy metal pipes.
You may have noticed him. You may have not. He's very quiet and unassuming in this space of physical activity, coming in religiously 6-7 days a week for the past 19 years. He heads straight to the fitness center to get on the elliptical, do leg presses, work with weights and stretch. He's usually wearing a baseball cap and some type of sweatshirt covering a rock-n-roll t-shirt. He prefers to be undercover.
"I loved when we had to wear masks," he admits, adding that he actually lost weight during COVID. "I actually put on the pounds after the pandemic, when things slowed down a bit."
"I couldn't tour and so I spent time being a little bit lazy," said Owens, who had been used to being on stage, in front of a crowd and entertaining heavy metal fans for decades in the US and abroad. Early on, he fronted several local bands, doing his own tunes plus songs from his rock idols like Aerosmith, Ozzy and Judas Priest.
The latter group was a favorite when he was a kid at Kenmore H.S., but it wasn't until 1996 when he went from being a fan of the English heavy metal band to being their lead singer. Incidentally, he picked up the name "Ripper," from the Judas Priest's song, "The Ripper," which starts with the line, "You're in for a surprise. You're in for a shock."
"It was surreal," said Owens, now 55, who explained that a friend had sent a video of him singing a Judas Priest cover to the real band who was in search of a new lead singer. They flew him to England.
"When I walked into audition and saw those guys, I couldn't believe it. These were my idols when I was a kid and now, when I saw them, I honestly thought they were old." In truth, the band members were in their 40s, but respectively ancient to a kid who was half their age,
"They were really nice and it was more like a meet and greet because they had already heard me sing and knew that I had the voice," he said.
That voice is one of the reasons that Owens keeps fit. Being overweight is hard on the diaphragm and the lungs so he's been diligent about keeping up physical appearances as well and well as top performances to hit all the notes required of a lead singer.
And, it's been a journey.
A self-proclaimed chubby kid, Owens said that he got involved with anything and everything musical while at Kenmore High School including Men's Chorus, Glee Club and Madrigals. "I took every opportunity to get out of class and onto the stage," he admits.
And it wasn' t long before those opportunities turned into an obsession as Owens has a litany of credits starting with his high school band Brainicide and moving through the years as the front man for metal groups with heavy names like Winter's Bane, Malmsteen's Rising Force, Iced Earth, Charred Walls of the Damned, A New Revenge, The Three Tremors and Dio Disciples. His unique voice and obvious stage presence also took him in directions a bit less hard-hitting as he was the lead singer for the Christian metal band Tourniquet. Owens also joined the grunge movement in the 90s with Seattle, a group playing covers of Nirvana, Soundgarden and Pearl Jam. In 2020, Owens was announced as the front man for the band KK's Priest, which also featured former Judas Priest members KK Downing and Les Binks.
In December 2022, Owens as "Ripper," released a solo album, titled Return to Death Row. His summer is booked with shows in Romania, Sweden, Spain and Belgium, with the Fall returning him to England.
"It's been a wild ride," he said, adding that his best accomplishment is his family, including his two daughters, both former Y employees.
"Oh, and the Grammy nomination. That was pretty big," he said with a smile